Nothing screams "spring awakening" than the Japanese cherry blossoms. Their arrival is long anticipated, but their time is short. Having fashion pieces, accessories, cosmetics, and cherry blossom infused hair and skin care can allow cherry blossoms to continue to stay around, even when spring is over. If you are looking for a much needed revamp in your closet, or want to add something new to your outfits, read on more after the break to see what can brighten up your wardrobe!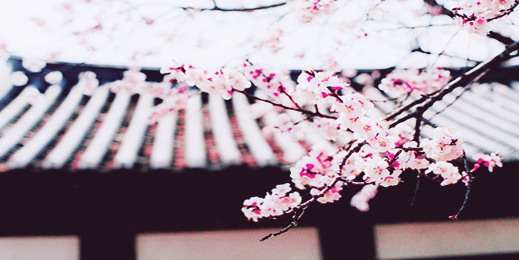 The essence of sakura can be expressed in many different ways, such as in color, print or infusion in your beauty products. Wearing light, airy pinks and layering them with white and peachy-nude bases can add a touch of femininity and dimension to your look. Cherry blossoms are delicate, so you do not want to wear thick pieces or anything with a lot of texture. Stay with flowy fabrics. Sheerer pieces can also help to add more depth as well.  If you do want some texture, try embroidered fabrics. They won't look or feel too harsh, but more dainty and delicate. A true sakura printed garment can make any basic outfit look perfectly pulled together. Whether the print is on a top or bottom, or even a one piece, you will look radiantly fresh.
To complete the look, stay away from heavy makeup. Yes, makeup can look light and natural if applied with the right techniques. For face makeup, I would highly suggest investing in a Beauty Blender. It blends your makeup in flawlessly with no harsh lines or patchiness. Did I mention that it is also pink? The eyes and blusher should be kept natural; nothing over the top. Adding a pink or peach base for eyeshadow enhances the color put on top, giving it a warmer tone. For daytime, stick with brown eyeliner, and for nighttime events, go for a blacked winged eyeliner look. Applying a rose gold highlighter will instantly add a luminous, innocent glow. For the lips, nudes and shades of pink, salmon, or coral will wrap up the makeup look together.
If you are not wanting to permanently dye your hair a sakura pink, temporary hair dyes/sprays and hair extensions can make all the difference. Any way you choose to style your hair, be it in an updo, straightened, wavy or curly, or even with charms and cherry blossom inspired accessories, your look will scream feminine.
How will you go about with cherry blossom season? If you are going to any events or putting together a sakura inspired outfit, let me know in the comments!